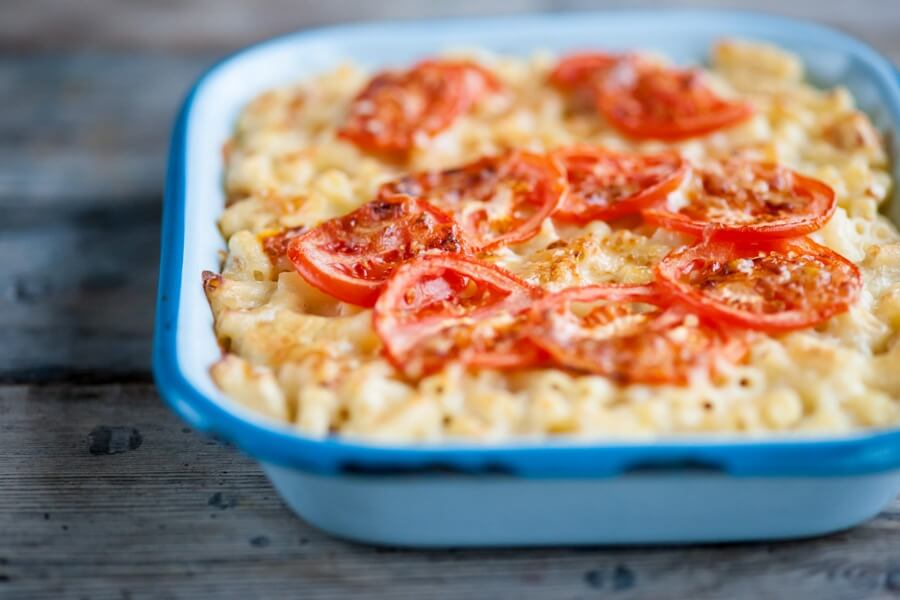 Here's my take on the classic dish - it's always an easy win with the family, and never disappoints.
300gm Cheese (Mixed - whatever you have about)
50gm White Bread (1 bread roll)
3 Med Tomatoes
6 Mushrooms
300gm Macaroni
700ml Milk
50gm Butter
50gm Flour
1 Teaspoon dijon mustard
1/2 Teaspoon onion Powder
2 Garlic cloves
2 Teaspoons liquid smoke
Slice the mushrooms and begin to fry them (I use the same dutch oven I cook the final dish in - saves some washing up!) and place the macaroni on to cook.
Meanwhile, melt the butter in a pot then stir in the flour. Cook for 1 min, stirring, then take off the heat. Pour in about half of the milk and beat well until smooth - it is quite thick at this stage. Add the other half and beat until smooth again.
When the macaroni is done, tip it into a colander and put it briefly under very hot running water to keep it separate. Drain. Put the pan of sauce back on the heat and cook, stirring, until thickened and smooth. Lower the heat and simmer for about 4 mins until glossy, stirring every now and then. Remove from the heat and stir in the cheese, mushrooms, and other herbs/seasonings. Taste and season (you shouldn't need much salt). If the macaroni is sticking at all, put it under the hot tap again, then stir to separate. Drain well, then gently mix it into the sauce and stir to coat completely. If necessary, adjust the consistency again with milk. There should be enough sauce to coat the macaroni thickly and liberally.
Tip the macaroni cheese into the dish, scatter over the breadcrumbs and lay the tomatoes casually over the top. Heat through in the oven for 12-15 mins until beginning to bubble around the edges. Grill for 3-5 mins to brown the crumbs. Let it all settle for 1-2 mins, then serve while still piping hot.